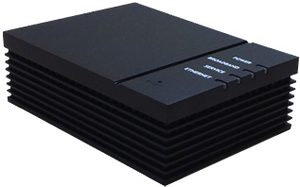 It's basically the fibre box
The ONT is fitted to the inside of a wall in your home during the installation process and a fibre-optic cable from the street connects to it.
It allows you to connect to the FTTP (fibre to the premises) network.
---

What do the green lights mean?
The ONT has 4 LED lights, from left to right:


| | |
| --- | --- |
| LED 1 | Power |
| LED 2 | Broadband |
| LED 3 | Service |
| LED 4 | Ethernet |
---

Some of the lights on my ONT (black box) are out

When all of the LEDs are solid green, that means everything is as it should be. If something doesn't look right with your router or ONT, get in touch with us over live chat and we'll have a look into it for you.
Note: Only your router should be connected to the ONT. All other devices should be connected to the router via ethernet or over WiFi.