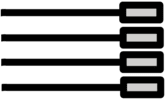 A network switch
If you need more wired connectivity, a network switch is the option for you.
The switch we've linked gives you 5 additional ethernet ports.

Note: if you're buying a network switch, make sure that all of the ports are capable of a Gigabit connection and that you're using ethernet cables rated Cat6 or higher. Otherwise, the speeds will be restricted.