We're a Full Fibre broadband provider
This means we can offer up to 1Gbps speeds.
Yes - you read that right!
---

Some perspective
The UK government currently defines 'super-fast' broadband as having speeds greater than a mere 30Mbps.
Full Fibre is faster and more reliable than older connections that rely on outdated cables which were originally designed for landlines.
---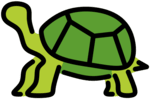 Don't be a slowpoke
Other providers still have broadband offers that only use fibre up to the green cabinet on the street.
That's great if the green cabinet is your home.
From the street to your home, old landline cables are used which will slow your speeds and negate the benefits of fibre.
---

Want to know more?
You can read our blog for more information on Full Fibre.